Date/Time
Date(s) - 02/09/2018
9:00 am CDT - 1:00 pm CDT
Location
Bay County Public Library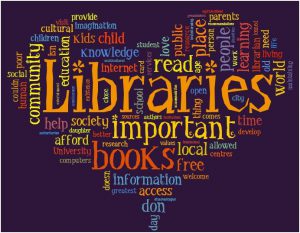 Youth services staff members from across the Panhandle will get together on February 9, 2018, from 9 a.m. to 1 p.m. CT (10 a.m. to 2 p.m. ET) at the Bay County Public Library in Panama City, Florida to share programming ideas for the 2018 summer reading program.
All attendees are encouraged to bring goodies to share. PLAN will provide a light breakfast.
Some of the programs:
VPK Learning Circles with Dr. Suzanne Adinolfi, Florida Department of Education Office of Early Learning. Dr. Adinolfi will be discussing informational sessions that the Office of Learning is making available for early learning professionals and parents.
Summer Teen Programs with Sally Mason from the LeRoy Collins Leon County Public Library will feature 6 to 8 teen programs for summer; most of the programs will be music themed.
Reach Out and Rock! with Heather Ogilvie, Outreach Librarian at the Northwest Regional Library System. Time AND social research show seniors benefit in measurable ways from spending time with children. Recent studies show DANCE is the most powerful brain-building exercise for older humans! I plan six weeks of community engagement, featuring guest musicians, dancers, and artists of all ages. We will hand-craft instruments, play music, sing, dance, and, of course, read BOOKS about music. Inside and outside: Drum Circle in the Park, Dancing on the Green, Hip Hop on the Basketball Court, Marching Band in the Mall, Dancing in the Dining Hall. Children will be invited to join the seniors, and adults will be invited to join the children. Mix it up and make beautiful music. We will totally rock the summer.
We will also have other sessions with Zedra Hawkins and Mary Douglas!
Everyone should bring their ideas and we'll have a brainstorming session!
Current Attendees
Jess Bolton
Zedra Hawkins
Kris Horst
Brenda Anderson
Amy Miller
Lisa Bell
Almeda Main
Edith King
Karen Houston
Courtney Nicolou
Amy Flores
June Harvey
Marcia Duggar
Joan Turner
Nancy Newsome
Cheryl Rogers
Terri Church
Martha Chacon
Susan Harris
Debbie Daniels
Laura Laspee
Will Rogers
Heather Nitzel
Sandra Vecchio
Heather Ogilvie
Shannon Bovis
Lisa Robertson
Dixie Little
Joanne Whitley
Joyelle Linton
Angela Evans
Alisha Tucker
Shirles Andrews
Jill Hickerson
Krista Jackson
MARY HARROLD
Sandra Pierce
Tania Watts
Sam Hudson
Laura Toton
Linda Leccese
Mary Douglas
Sally Mason
Becky Marsh
Hope Willis
Alice McCardle
Veronica Coolman
Magda Torres
Jeanette Perkins
patricia garnett
Lynn Peddie
Aaron Boyd
Debra Abner Jones
Doris Andrews
Lynn Gonzalez
Alex Caruthers
Barbara Auzins
William Gaylord
Register For This Event
Registration is closed for this event.